Hey guys! I am Anika and welcome to my
new series woodworking for beginners! When you are a beginner in this
woodworking world things can get really intimidating and overwhelming! Search on
YouTube for a project a simple project and you will be bombarded with all these
fancy workshops full of fancy tools, simple projects – made using really fancy
tools that you don't even know what they're called! You might feel like there
isn't much a newbie can actually make without investing in a whole bunch of
expensive tools and all the accessories that go with it! Which is why I'm here!
Over the next few weeks we will talk about all the tools you need as a beginner.
All the tools you don't need, how to use some of those tools and we will also
make a few projects along the way so don't forget to hit subscribe so you
don't miss out on any of these! Now let's get started! So today, in case you haven't
guessed it yet, I want to talk to you about tools because you really can't
build much without power tools but do you really need all these fancy power
tools? The answer is NO.
So how many tools do you really need?
Well… I would say about three or four to start off with. I mean you don't even
really need really need all of those. I've been building for about
eight years now and up until about two or three years ago I only had the basic
four or five tools. I gave this a lot of thought and I think the best way for me to
help you decide what tools you need to get is for me to take you through how I
built up my tool collection step-by-step and why I bought something and why I did
not buy something. So let's start number one –
cordless power drill! I'm sure you already have a power drill and if you
don't you need to get one because every household needs a power drill. I have two
of these. I have the Milwaukee drill-driver which I have had for almost ten
years and it's still going strong this Ryobi-One+
I got about two years ago.
I like having two of them with me because when
I'm working I don't have to switch between a drill bit and a driver bit I
can just have both of them loaded and use them together. It just makes things a
lot faster so if you already have one you can think about getting
another one but it is totally not something you really really need but
you've got to have at least one power drill. Number two is the Kreg jig! if you
plan to build furniture I highly highly recommend you get yourselves a Kreg Jig.
This is the K-4 and it's the first thing I actually bought when I decided to
build furniture so it's about eight years old. At that time I didn't even
have a saw I basically just had the hardware store cut up all the lumber for
me and that's how I built my very first desk.
What the KregJig does is it
makes it super easy to create really durable joints and it's also very easy
to use. I have a full tutorial on how to use a Kreg Jig I will add a link to
that in the description below. While you get yourself the Kreg jig don't forget
to get yourself some of their clamps because they actually make it super easy
also to make joints using their pocket holes which is what you create using a
Kreg jig. Number three is the miter saw! Now you can get your lumber cut at the
hardware store but there are two problems with that – one they usually
don't like cutting up pieces that are smaller than 12 inches. The other thing
is that they're not normally very accurate at their measurements. It's okay
for maybe a first build but as you want to build more you always want to have
the most accurate measurements and cuts so I totally recommend getting yourself
a saw.
Now the miter saw is considered an intermediate or even an advanced tool
by a lot of people but I think it is one of the easiest saws to use. It was
actually the first power tool I bought specifically for woodworking.
What I love about the miter saw is that it can make perfect cuts! You can go
straight, you can make it angled, you can make it beveled. There are so many ways you
can make simple cuts and they're always super accurate.
The width of lumber that
you can cut is kind of limited by the size of the saw. A sliding miter saw can
slide in and out and give you a much wider range of width that you can cut. It
is a little bit more pricey so but if you have a budget I totally recommend
going with it but if you don't there is no problem with getting a regular
compound miter saw which is actually what I had until about four or five
months ago. I'm actually going to be talking about how to use the miter saw
in a lot more detail in one of my future videos so don't forget to hit the
subscribe button number. Number four is the Random orbital sander! The most important
step to a woodworking project is preparing your piece of furniture for
staining or painting. The prep work is really going to determine how great your
furniture is going to look. Sanding to create a perfectly smooth finish is
extremely critical. Sure! You could sand it by hand but trust me your arms will
thank you for getting an electric sander there are many different kind of Sanders
on the market but to start off with you want to get a random orbital sander.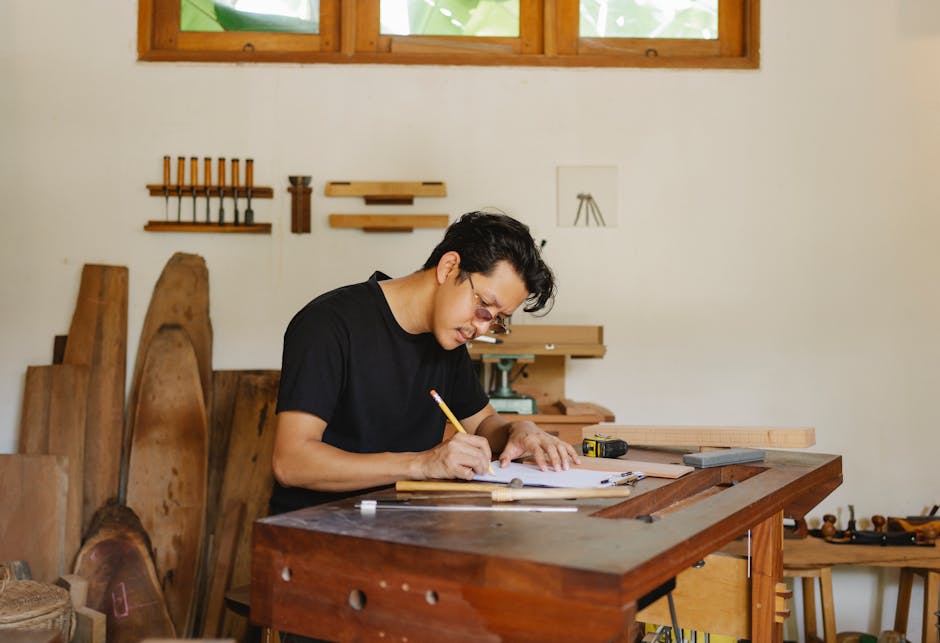 I
love this Sander. I've had this for five years now. It is a Bosch sander it's
got variable speed and it has amazing dust collection I highly recommend this
sander or do your research and get a good sander. Number five is a circular
saw! Now I didn't get one until I was about three years into building. Before
that I would just get my larger boards cut down at the lumber store and then I
would get home and cut them up by hand to be more accurate. Now I have two saws
one is a corded skill saw and the other one is a cordless Ryobi saw.
I like
using the corded saw because I feel like it's a little bit more powerful when I
have a lot of heavy duty cutting to do. But for smaller cuts, smaller projects
when I need to make a quick cut I normally use the cordless version
because it's so much more compact and lightweight
I still use both my saws. You can pick one that you would like to get I would
totally recommend getting a corded more powerful saw to start off with. Now I
have a quick tip when it comes to circular saws I highly recommend getting
a Rip cut which makes it much more easier to cut straight cuts with a
circular saw or even when you are doing multiple cuts of the same identical size
it makes it so much easier once again I'm going to have a link to all of these
tools in the description.
Now it's time for a bonus! Number six is a brad
nailer! Now it's basically just an electric nailer. Even though I don't
think it's an essential tool I think it's my favorite tool before I had this
I would just use a hammer and nails and you could totally do that
and that's what I did until about two years ago.
I built a lot of projects with
it. However ever since I got it it is definitely my favorite tool it just
makes everything so much easier and so much faster! So that's it! That's my basic
tool list. I hope I convinced you that you don't really need a lot of big tools to
get started you can totally build up step-by-step any other tools. Apart from
things like a jigsaw or a router or a table saw basically increase your
capability being able to do more fancier stuff like
rounded edges or curved cuts etc but to start off with you really don't need
them and you can just take it step by step and build as you go. Once again you
can find a link to all of my favorite tools in the description below. I have a
lot of videos coming up on how to use all of these tools and also simple
little projects we can make using these tools. So don't forget to hit subscribe
so you don't miss out any of these.
If you loved this video please hit the
thumbs up button and it helps me bring you more videos in the future. Just a
quick reminder before I go – Be sure to read all the instruction manuals and
follow all the safety procedures! Be safe and happy building bye Thank you.