Welcome to Make Something with
me, David Picciuto today, we are making some dice pencil holders. This video is brought to you
by Squarespace. Check it. My blade set to 45 degrees
using the digital angle gauge. I'm going to sneak up on the perfect cut. So it might take me a couple of tries to
get that miter to meet up with the edge of the wood.
That was just a piece of wood that
chipped off and stuck in right there.
Nothing that I did wrong
as far as I could see. That was unexpected. I think what is happening as I'm pushing
this piece through this waste piece is getting trapped between the blade
and throat plate here, pinched, and then coming back at me, it's not ruining the piece but it is
scaring the crap out of me every time. And I think I'm going to move
this operation over to the router.
A couple of things that could fix that is if you have a miter gauge, some sort of backing board on
here that can help push that piece all the way through the blade,
and then it won't get pinched in there. And then another method that we were
discussing off camera was moving the fence to this side of the blade and running the pieces through. But then we run into the issue of
when we get to the last cut this, instead of it being this way on this side, it would be this way on
this side and there's, this edge could get
caught underneath there. And we would have to make some sort of
sacrificial fence that goes all the way to the table and it kind of complicates
it.
Plus this is really awkward. So I want to avoid that. I'm just going to use the
router at the router table. I've got a 45 degree chamfer
bit in my router table, and I'm going to do it in two passes. So my fence has moved
up just a little bit. So I'm not taking off all of that wood
at one time, I run through everything, then nudge the fence back and then run
everything through one more time for a final pass. I'm also going to use this paddle to
keep my hands away from that nasty bit. After I did that second pass, I went through one more time just to
make sure I got a nice smooth edge, especially on the end
grain of this hard maple. It would want to pull away from the fence
a little bit, but I think we got it.
I think we're, I think we're
going to be pretty good. It's not all the way to
the line, which is okay. Cause we will round that
over in a later step. So I went ahead and drew all my layout
lines and then I circled where I want to countersink the holes. Now I'm going to take an ice pick and
just kind of jab the center point. This helps the drill bit
position itself in the exact spot where I want it to go. And yes, that is a Jimmy DiResta ice pick. Everything is marked and all the holes
are going to be countersunk except for the top piece. So it can
hold pencils on this one. I want the number five
to go all the way through and just to be different on this one. I want the three to go
all the way through. So those holes are going to go all the
way through everything else is going to be counter sunk. Not necessary, but I've got a fence set up all my drill
press for all of the corner holes that need to be drilled.
I can
just pop it in there, drill, pop it in there and drill. I'll have to
remove the fence to do the center ones. I've set my depth stop to a
quarter of an inch. This is, this is a crazy fancy drill press.
It automatically starts when I pull. And then when it gets to its
depth, it will go into reverse. It's overkill. And I love it. I do
have a video on this drill press, but if you have a normal
everyday drill press, you want to set your depth
stop about half the thickness. That is it. So the top piece has the
holes all the way through and all the other five
side pieces counterbored. Now the, the outside holes, they do go into the, the
beveled edge a little bit. So that means when we glue that together, there's going to be a little bit
of that beveled edge sticking out.
I am okay with that because
this sticks with the true nature of how the dice are drawn up and designed. So I've made enough for two of them. You have a couple of options. You could paint the inside
here, black, that is one, you could mix up some epoxy and
then add some black dye to it. And just fill that in. That is two. What I am going to do is I am
going to make a Walnut inlay.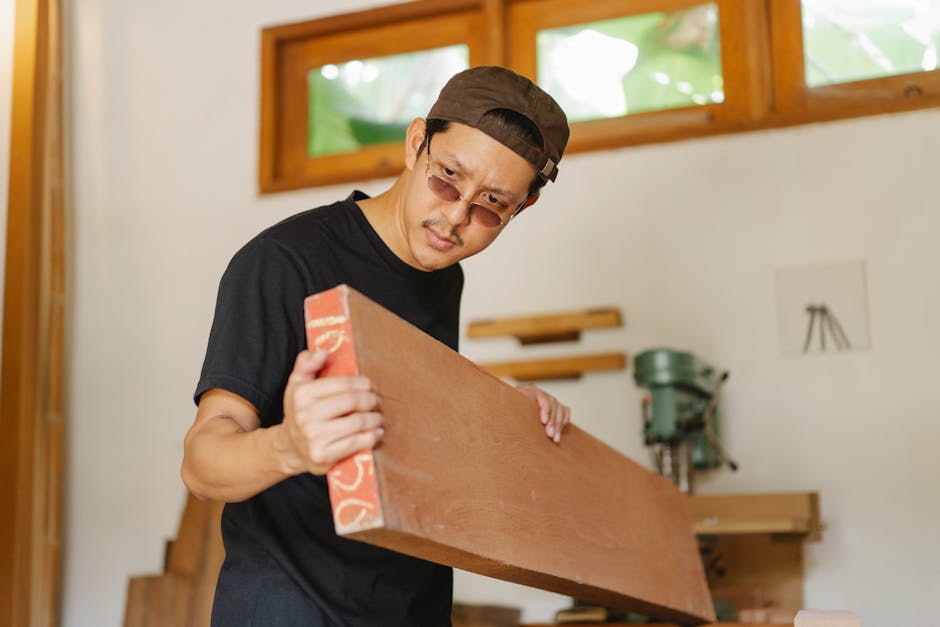 I have some really thin stock Walnut
lying around and I am going to use, I think I'm going to use the laser cutter
and then cut a little disks and then glue them in there. So now you pour in your epoxy
or you glue in your inlay, hope, whatever you're doing. match the grain. So this inlay actually
sits down a little bit, just like six and 1 7, 2 and five seven. So opposite sides always add up to seven. So we are gluing this up and
we're just using tape as clamps. I put a one eighth inch
round over on all the edges, and then I don't know if you can see, but the holes on the corner here, it kind of goes into the side pieces.
And I'm just going to drill
that out a little bit further, not all the way down, but just down far
enough where you can't see it any more. And where that drill bit stops I'm just
kind of blend that in a little bit with the file while I'm sanding these pencil holders, I'd like to tell you
about today's sponsor.
And that is Squarespace for 10 years, I work for an ad agency and my
main job was to develop websites for our clients. At that
time, I loved making websites. I did it full-time for the ad agency and
then I would come home and then work on freelance websites. And now that I
no longer make websites for a living, I don't want to spend a
bunch of time doing so.
And so all of my websites are Squarespace
sites and they were all Squarespace sites even before they were
a sponsor of this channel. And the reason is it is super easy to use. Their templates are absolutely
beautiful and it's easy to update. You don't have to worry about
all that technical stuff. You can just focus on what you want to do. I want to focus on woodworking
and making these videos, and I don't want to spend any more time
than I have to working on my website. And that's where Squarespace comes in
and makes it super easy for me to run my business.
Whether you have
a business or a hobby, or you just want to have a place to show
off your stuff, visit squarespace.com. And when you're ready to launch, visit squarespace.com/makesomething
for 10% off your first purchase of a website or domain. Thank you
Squarespace for making my life easier. And thank you for
sponsoring today's video. Now let's get back to
these pencil holders. And the last thing to do, put a coat of polyurethane on
there. Don't even need the brush. We're just going to,
we're going to rub it in. I'll let this sit on
there for a little bit. And then I'll come back in a few minutes
and wipe off all of the excess with a rag. And that is going to do it. If you think I deserve it clamp
down that likes button Patrion page. And over there, we do a little bit of behind the
scenes and a monthly discount coupon. So you might want to check that out. The one thing that bothers me
is the outside holes on the top.
There they go into the side
pieces and I can see that. The plans will be a little bit different. I'll make the holes either a little bit
smaller or a little bit closer together. So it doesn't interfere
with the side pieces. So there will be plans available for
this we'll link down in the description. That is going to wrap it up
as always be safe, have fun and make something. That's going to wrap it up right there..